Thermoplastic Coated Pipes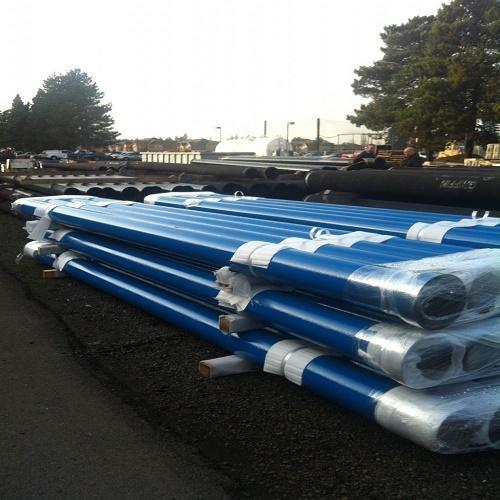 Thermoplastic Coated Pipes
Product Description
Thermoplastic coating pipe has the application of a medium-density plastic layer on its surface. Its decorative and protective coating makes it useful for several applications. This is accessible with a thicker finish and has an ideal coating for supermarket trolleys and signs. Thermoplastic coating pipe is accessible with a versatile industrial coating. It has good UV resistance and is non-toxic in nature. This pipe of special industrial grade has capacity to withstand the exposure made to UV rays and sun.
Product Details :


| | |
| --- | --- |
| Wall Thickness | 1.2 -7.0 mm |
| Length | Up to 12 metres |
| Pressure Class | Up to 100 Bar |
Advantages :
Low flow resistance due to Thermoplastic Coating from inside, the surface becomes smooth and offer lower flow resistance.
Due to better flow we can choose pipe of smaller diameter.
Larger inner diameter for the same outer diameter as walls are thin.
The pipes are lightweight and strong due to high quality steel and the spiral welding technique.
Reduce energy consumption by up to 50%, as we can use pumps with lower power ratings.
No corrosion, minimal wear - Better Than Stainless Steel.
Pipes can be supplied with different types of corrosion protection.
Coated pipes are ideal in environment of acidic water, aggressive chemicals, slurry, extremely abrasive media.
It meets the requirements of the marine environment's toughest corrosivity classification, C5-M.
Pipes treated on the outside gives an even more durable surface that better tolerates mechanical wear.
Ideal for pipes that are to be dismantled/reassembled due to a very robust surface coating.
Low Cost Easy Installation.
Short downtimes.
Installation very easy. No welding. No special tools. No time-consuming training.
Assembly faster as done entirely without hot work.
Pipes have quick couplings. They can be easily dismantled and re-used.
Pipes are lower in cost in comparison to Stainless Steel.
Environment Caring.
Lower CO2 emissions due to special manufacturing process.
Lower power consumption during construction, as no welding.

Details :

Standard - EN 10217-1
Dimensions - Spiral-welded 76 - 639 mm, stepless Longitudinal welded 48 - 60 mm
Contact Us
B No. 204/205, Madhav Complex, R. C. Dutt Road, Vadodara, Gujarat, 390007, India
Phone :+918045478039